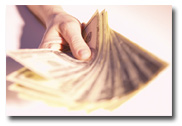 Become a YourDiscountWebsite.com affiliate today and receive a $50 instant payment plus $5/month for each referred customer that purchases a city guide! You will continue to receive the $5 monthly payments until the referred customer cancels their subscription. There is NO LIMIT on the amount of referrals you can earn on...so you can realistically earn hundreds of dollars each month!
Each referred visitor is given a tracking cookie, so even if they leave our website and return at a later date to purchase a city guide...you are still given credit for the sale!
You must sign up for a Paypal account (if you do not have one currently) so we can transfer funds to you. After you sign up you can login below to check your stats!